Sandy lives with Calgary Housing Company in Mission.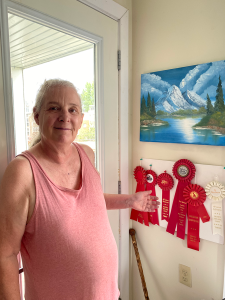 "People are kind here" says Sandy as we meet in the lobby of her building. A TV can be heard from the common room in the background, and Sandy says hello to her neighbours as they come and go.
Her building is operated in partnership with LAMDA, a mental health and housing support agency. LAMDA and CHC have worked together for over 30 years.
We head up to Sandy's apartment where the walls are adorned with many of her works of art. Bob Ross is an inspiration in many of her landscapes; and most of them look like they could have come directly off an episode of the Joy of Painting. In the corner, she has a shelf full of needlefelt animals she has sewn. In her bedroom is her desk where her art comes to life. She shares how she used to do art on the kitchen table, but her parents gave her a 'wonderful desk'.
Sandy brings out a binder full of ribbons; over the years she's won 75 different ribbons from the Heritage Park Art Fair. This year she had a painting displayed at the Calgary Stampede. While she wasn't victorious in the Stampede Art show, but she enjoyed the experience regardless and enjoyed getting to see all the other art at the Stampede. She has won awards at the Stampede in many previous years.
Over 20 years ago, she entered her first art contest while she was living in a group home. But how did she come to live in the group home?
"I slipped through the cracks," she says.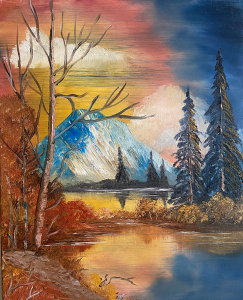 She had left home and moved in with a guy she hardly knew. After moving in, she learned he was abusive, and she says it was a "rough few years" and she wondered" how she had gotten so unlucky"'. Eventually, she moved into a group home and was able to qualify for the province's Assured Income for the Severely Handicapped (AISH).
"After getting AISH life got better," she says.
On AISH, she is able to afford art supplies and says she finds wellness in that.
" I've been doing art my whole life. I got into it at an early age thanks to my mom and dad."
She is very involved with National Access Arts, a program for artists with disabilities. She meets with them every Wednesday except a short break in the summer and winter. It's currently her summer break and Sandy shares that she's been using the time to connect with her neighbours and go on group outings.
"Thank God for Calgary Housing" she says, describing the location of her apartment as being perfect. "It's 10 minutes on the train to Walmart, Safeway is nearby, the #2 bus goes to Killarney pool and the library is close to".
Currently she is painting a memory of visiting the Stampede as a young girl. She recalls going for a ride on a pony carousel; the kind with ponies tied to a metal wheel that walk round in circles. She loves everything about horses and her face brightens as she describes being lifted onto the pony.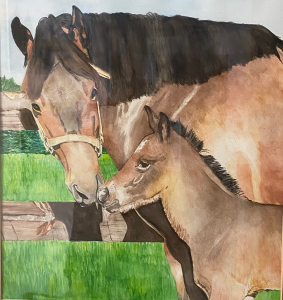 In addition to winning awards across Calgary, Sandy has also had art displayed internationally' with one of her of her paintings being displayed in Tokyo. She also won second prize in the CHC art contest last year.
She's published three books of art, her most recent being "Christmas poems and illustrations"; a full colour book she is quite proud of. She also makes greeting cards, and whenever she sells art she keeps the prices affordable because she would like to see her art help others; "CHC helps me help others" she shares.
Throughout her story it is clear that living in safe affordable housing has helped Sandy thrive as an artist and pursue her creativity.