Affordable Housing Builds Great Communities
To celebrate National Housing Week 2022 and specifically November 22 as National Housing Day; Calgary Housing Company is highlighting the important role safe, affordable housing plays in building community. Affordable housing provides many benefits for individuals and families – stability, security, confidence, and pride. It also provides significant benefits to the broader community. From reduced social costs to safer communities to creating new opportunities for our neighbours to gather; affordable housing builds great communities.
We've spoken with community partners, staff, and residents to discuss the important community building that happens when people have access to affordable housing. Read on to hear their stories.
---
How Public Housing Builds Community – Jean Claude Munyezamu Founder of Umoja Community Mosaic
"Public housing is an opportunity for community" says Jean Claude warmly as he describes the work he's done with Calgary Housing Company (CHC) through the years.
He first began working with CHC over 13 years ago when he started Soccer Without Boundaries, an afterschool soccer program that removes barriers preventing children from participating in sports. The program responds to challenges such as financial barriers, lack of equipment, or difficulties accessing transportation.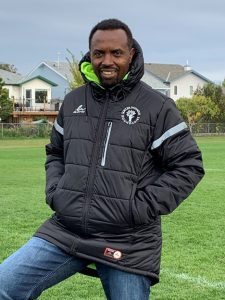 Some of the children who were 6 and 7 years old when the program first began are still involved and are now helping coach and mentor today's youth. Jean Claude speaks of one girl who received a soccer scholarship for the University of North Dakota, "these kids inspire other kids, they're role models for the entire community".
During the pandemic Umoja began a culturally appropriate foodbank. "We start everything out of necessity" says Jean Claude. He explains how a mother with a two-day old baby contacted him in March of 2020 saying she needed formula and other food. Jean Claude sprang into action and dropped off a food hamper for the family, and through that experience he learned about the significant need for food among members of the community. Many families were using food banks and  were unfortunately receiving food they couldn't eat (beans with pork being given to Muslim families is just one example).
In the Umoja offices, Jean Claude has several shelves for different types of flour. He explains how different cultures use different flours in their cooking and how white bread flour often can't be substituted. He also shares that many cultures only (or mostly) use fresh foods and aren't able to use the canned food donations they receive from the food bank. Within two days of starting the food bank, Jean Claude had over 127 families sign up. It was clear there was a gap in food security in the community and Umoja was helping fill it.
The wait list for the food bank is growing, and Jean Claude has worked hard to expand its reach. They're currently serving 500 families, with another 200 families on the wait list. At the peak of the pandemic they were providing food for over 1000 families. People from the community often reach out to him with new requests, and he says people know that if he can do something he will.
"It's what a friend does, it's what a neighbour does."
Here is a recent CBC news story about the work Jean Claude is doing.
---
Makana and the Mayland Heights Community Garden
Cedar Court is a townhouse complex managed by Calgary Housing Company (CHC) in the community of Mayland Heights. While the townhouses have private gardens, they also have a shared greenspace in the middle of the complex. It's in that greenspace where you will find the community garden plots.
This summer we spoke with Makana, a resident at Mayland Heights who has been tending to these garden plots and growing food for his family. He's very proud of his garden as he describes the various types of kale, tomatoes, peas, and other vegetables growing there. He goes into enthusiastic detail describing the best ways to cook the kale and offering food from his garden.
Large branches protrude from the garden plots as stakes – Makana says it's a style of gardening he learned back home in Ethiopia.
"I love gardening" he says, "I could live in my garden."
He's worked with CHC to get watering hoses installed in the greenspace as there were none previously. The garden is near picnic tables and on this warm summer afternoon children are playing in the grass nearby. Makana is out in his garden most afternoons, and the love he puts into it is evident.
---
Interview with Ray Njiku, Calgary Housing Company Tenant Liaison
Ray began volunteering with the Boys and Girls Club of Edmonton after he finished university. He was offered a job as a crisis intervention worker before he moved on to become a Support Worker in a group home with the Boys and Girls Club of Calgary.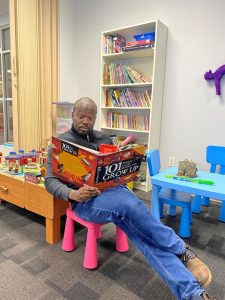 He first began working closely with CHC after he moved to Hull Social Services, where he worked to support children whose parents have mental illnesses. Many of the parents lived in CHC-managed properties and Ray would help the children navigate their parents' mental health challenges. He joined CHC as a Tenant Liaison in 2014.
When asked about a resident he's helped this week, Ray smiles as he mentions Gerald* and how much community building helped him. Ray first met Gerald during a unit inspection. Gerald was depressed and isolated, he had financial challenges, but he very much wanted to meet new people. Ray connected him with the Calgary Dollars program as a volunteer and has now seen Gerald flourish. He's an active volunteer with Calgary Dollars, has organized several community clean ups, planned social gatherings for the building, and tends to the community garden.
"He's doing what he can to improve his community," says Ray.
Ray shares how he's seen residents' lives transformed through affordable housing.
"Housing security creates safety. When people are safe, they're able to do other things."
With that safety they're able to spend more time with their kids, go back to school, volunteer in their community and more.
"When I see that residents are succeeding and doing well it gives me that drive to carry on" he says.
*Name changed for privacy.
---
Property Walkthrough – Louise Station
Welcome to Louise Station, a bright and modern affordable apartment in the heart of downtown. This building comes with easy access to public transit (near an LRT station) and underground parking. The community room on the ground floor is a great space for families and is stocked with books and toys, with lots of room to move around in.
The unit we are viewing is a modern and renovated two-bedroom unit. It has a spacious kitchen and an open living room. Each bedroom has a full-size closet and plenty of space for a bed, dresser and desk. There is a full-size bathroom with tub and shower in each unit as well.
Fully renovated, this clean and modern building was built in 2009 and holds just under 90 units.
Some units in this property are included in our near market rentals portfolio. Near market units are approximately 10% below market rent and are advertised for Calgarians who are close to being able to afford market rentals. These units are advertised on Rentfaster.ca. There is no waitlist, but units are subject to availability. View currently available near market rentals here.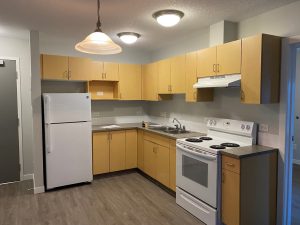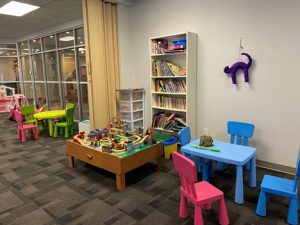 ---
Rundle Manor – Upcoming Property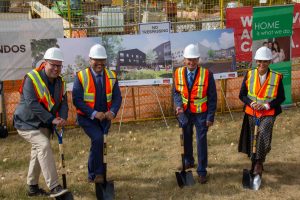 The community of Rundle will be home to 135 new units of affordable, mixed-income housing in early 2024. This new development will feature one-, two-, three- and four-bedroom units. Twenty of the new units will also be barrier free.
"One of the most important investments we can make for Calgary's future is in affordable housing," said Mayor Jyoti Gondek at the official groundbreaking in September 2022. "Rundle Manor is a critical part of our strategy to build inclusive and resilient communities by providing more readily available affordable homes."
"I believe these homes will be a fantastic addition that will enhance the community" said Bo Jiang, VP Asset & Maintenance for Calgary Housing Company. The units are a part of CHC's transition to a mixed-income model; with one third of units being deeply subsidized, one third at set rents and one third at 10% below market rents. This will provide residents with housing security and housing affordability. Read more about Rundle Manor here.
---