Resources to support residents during extreme heat event
The temperatures this week are expected to be over 30 degrees Celsius for 5 straight days, with the temperatures cooling to the low 30's on the weekend. Follow these tips for staying cool, as well as signs of heat related illness you should watch for in yourself, your family, neighbours and people in the community. [Download this poster for quick tips]
Tips for staying cool
Visit a cooling station
CHC Buildings – CHC is creating cooling areas in 11 of our buildings (Ensure you follow COVID-19 protocols.) Cooling room hours are 8am to 10pm.
Baker House – Main Floor Lobby (

OPEN

)
Bridgeland 2 – 18th Floor (

OPEN

)
Crestwood – Community room (

OPEN

)
East Village Place – Library (

OPEN

)
Hillhurst 2 – Main Floor Community Space (

OPEN

)
Langin Place– Sitting Area (

OPEN

)
Louise Station – Community Room (

OPEN

)
Shag Tower – Apt 206 (

OPEN

)
Spruce Cliff 1 – Pine Place Resource Room (

OPEN

)
Villa Blanca – Community Room (

OPEN

)
West End – Community Room on Main Floor (

OPEN

)
Cooling stations located around Calgary – The City of Calgary has created Cooling Stations around the City.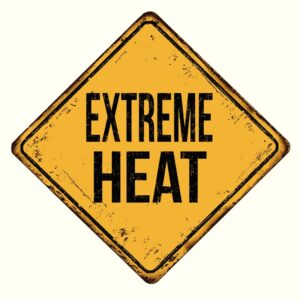 Quick Links from the City
~ Cooling station locations
~ Tips on staying cool and safe
~ What to do during extreme heat
---
---
Keep your home cool
Close curtains and blinds during the day.
Open windows for cooler air in the evening if it is safe to do so. Create a cross breeze.
If you have fans, put them near a window to draw in the cooler air in the evening.
Put a bowl or pan of ice in front of the fan. As the ice melts, it will evaporate causing cool air to drift into the room.
Avoid using your oven or large electronics such as TVs and computers, if possible, as this will heat up your home. You can also turn off the lights.
Keep yourself cool
Make sure to drink lots of water throughout the day.
If your home is too hot and uncomfortable, take cool showers or baths.
Apply ice packs or cold cloths to your wrists, neck, elbows, behind knees and ankles.
Wear loose cotton clothes. Cotton will keep you cooler than polyester or wool.
Tips for staying safe
Heat stroke is a medical emergency
Heat stroke is a medical emergency, so call 9-1-1 immediately if you or others experience abnormal symptoms and watch for signs of serious medical conditions. Move immediately to a cool place and drink water if you experience any of these symptoms during hot weather:
dizziness
fainting
nausea or vomiting
headache
rapid heartbeat or breathing
dehydration
Watch out for others who may be in distress
Look out for your neighbors. If someone in your life is more vulnerable to the dangers of heat (elderly, infants, people who live alone or with health concerns), make sure you check on them regularly.
Always call 9-1-1 if someone is in medical distress.
Call the DOAP team at (403) 998-7388 if you see someone who looks like they don't have somewhere to go.
Call 2-1-1 if you or someone you know needs support in accessing social services.
Reach out for supports 
Call your Tenant Liaison or other support person, or call our customer service line at (587) 390-1200 if you need assistance.
Information and tips on staying cool and safe​​​​​​ – Information from the City of Calgary on what to do, where to find a location to cool down, the latest updates and resources.
What to do during an extreme heat emergency – Extreme heat can put your health at risk, causing illnesses like heat stroke and even death. Refer to this information from the City of Calgary.