We have been alerted that fraudulent texts claiming to be from the TRAB (Temporary Rental Assistance Benefit) are being sent to phone numbers in Alberta. Do not click the link in the text, it is not official communication concerning the TRAB program.
If you are receiving the Temporary Rental Assistance Benefit you will never be asked to deposit the benefit by text. The texts appear to be coming from Vancouver area codes. A screenshot of one of the texts has been included below.
For more information about fraud and common text scams please visit the Government of Alberta's page here. https://www.alberta.ca/common-text-scams.aspx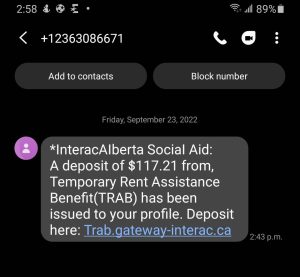 Access to safe, affordable housing is critically important to families, individuals and our entire community.
Calgary Housing Company (CHC) administers rental and rent supplement programs on behalf of The City of Calgary and the Province of Alberta. CHC manages housing for almost 10,000 households – about 25,000 Calgarians, including 10,000 children, live in a CHC-managed property.
Housing assistance is available based on a variety of factors in different programs. These programs are designed to serve those looking for housing from near-market rate rentals to deep subsidy programs.