As four out of five Canadians report being concerned about the cost of food, a partnership between Calgary Housing Company (CHC), Fresh Routes Market, and Calgary Dollars is helping CHC and area residents access affordable and healthy food.
The Fresh Routes Market at Manchester offers fresh food at prices that are 25 per cent lower than regular markets. The market also accepts Calgary Dollars for purchases. Prior to this program, many Manchester-area residents faced barriers to accessing grocery stores. The one walkable grocery store in the neighbourhood is a wholesaler that often sells food in too large a quantity for smaller households. The next nearest stores are two bus rides away.

Since opening in November of 2022, the market has been well received by local residents and has provided volunteer opportunities as well as access to affordable, high quality food. Volunteer Ryan McKenzie says "Volunteering has given me a renewed sense of purpose and identity: giving.  Mirroring my first answer about perpetual giving on both sides: It allows me to be a face in the community I live in.  It has allowed me to build and foster relationships in the community."
The market celebrated its grand opening on Wednesday, February 22. Media were on site to document the launch, speak with representatives and chat with shoppers. Dozens of residents and community members stopped by to do their shopping.
An innovative aspect of the market is its acceptance of Calgary Dollars; an alternative, local currency. Calgary Dollars are typically earned through skill sharing, trading and volunteering. Residents at the Manchester property are also able to pay a portion of their rent with Calgary Dollars. Calgary Dollars Program Manager Jared Blustein says "Thanks to this partnership we are able to continue supporting economic resilience, community cohesion and food security across Calgary."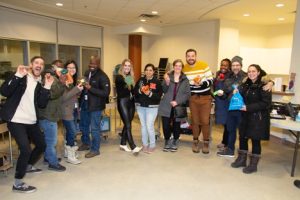 CHC operates three buildings in Manchester, made up of 31 bachelor units, 179 one bedroom units, 10 accessible one bedroom units, and 117 two bedroom units.  At Manchester, CHC also partners with the Mustard Seed through their Neighbour Centre and the SHARP Foundation through their Community Pantry Project.
CHC is the largest landlord in Calgary providing homes and rental support for approximately 27,000 Calgarians. CHC operates affordable, low end of market, rent geared to income and social housing and administers Rent Assistance benefits on behalf of the Province of Alberta.