If you walk by East Village Place this summer, you'll notice what was once a drab concrete wall is now a vibrant mural. The creators of Calgary's newest mural are Calgary Housing Company employee Cindy Stegmeier and her partner Dale Ewing. They are also residents of the East Village. "The title of the piece is "We All Belong"; and "it speaks to the diversity of East Village" shares Cindy.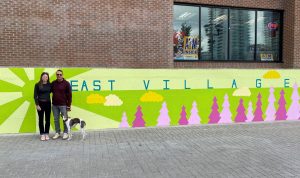 As Cindy and Dale talk about their community their love for it is immediately evident. They moved to the East Village three years ago after being inspired by the East Village Development Plan.
"We wanted to create something that contributes to the feelings of positivity and community" Cindy says, "We wanted the mural to be bright and uplifting, the trees are intentionally pink to say we are all unique". Dale adds "We wanted to note the confluence of the rivers and show respect to the Indigenous cultures that call this area home".
"The neighborhood has a very small footprint of only about 14 blocks but includes seniors housing, affordable housing, luxury housing, a homeless shelter, social services, hotels, a hostel, retail, restaurants, office space, and top tourist destinations like the central library, Bell Music Centre, Fort Calgary, and the Riverwalk" says Cindy.
The project started when Cindy applied for a grant to hire an artist to paint the mural, however her application wasn't approved. She and Dale recognized the opportunity for more art in the community so they approached CHC about purchasing some art supplies for the wall. CHC provided funds for the supplies and the project came to life.
East Village Place houses 163 units of affordable housing. It is comprised of 120 one-bedroom units and 43 two-bedroom units. Housing in this building falls under CHC's Rent Geared to Income and Low End of Market portfolios, meaning units when they become available can be advertised to the public.
East Village Place is also home to Pride Calgary's offices. You can read more about them and their vision for the space in our September 2022 interview with them here. Another resident organization is carya which operates the Village Commons out of the East Village Place property. Their space includes a reading nook for kids, a community kitchen, programming rooms, counselling rooms, and inclusive washrooms. You can learn more about the Village Commons here.