The Mustard Seed Neighbour Centre facilitates a greater sense of community and well-being among the neighbours of Manchester and surrounding areas.
"We work with everyone in the community" says Nadia; the Community Hubs Supervisor at the Mustard Seed Neighbour Centre in the Calgary Housing Company Manchester Complex. She has worked with the Mustard Seed for four years, but has volunteered with the organization since 2010. She has a background in social work, which she studied at Mount Royal University after moving from Indonesia.
Nadia still finds each day at work exciting and "it always amazes me the resilience and perseverance of people".
The Neighbour Centre model is new to the Mustard Seed, with the Manchester Neighbour Centre opening in 2019. COVID delayed the full time opening of the Neighbor Centre until October of 2021. Ray Nijiku from Calgary Housing Company was instrumental in the opening of the Neighbour Centre. He saw a need in the building for community and employment supports and helped get the Mustard Seed connected to the space.
"We try our best to be client led" shares Nadia as she describes the impact of programs offered at the other Mustard Seed Neighbour Centres in Calgary. She shares the story of one woman who started to volunteer three months after getting sober. The woman has now been sober for over a year. She loves people and loves acting as a host, bringing visitor's coffee and helping connect with them. Through the Neighbour Centre she has also found her passion in writing poetry, and is hoping to at some point go back to school. She's currently working on learning how to use a computer, but is always very insistent on trying it first herself before she asks for help.
Nadia shares another client success story. One of the residents in the community near Manchester was looking for help in finding her husband a job. Her husband got connected to the Employment Coach at the Neighbour Centre. He attended job workshops and, a short while later, he wrote in to say 'thank you' and that he had been hired for the job he was seeking as an auditor with an oil and gas company.
Nadia shares this detail because she says "we don't just help people get by. It's not just entry-level jobs and places like McDonalds. We help people move forward in their careers and find jobs where they will be challenged and continue to grow. But, we can't do it alone, the client has to be motivated as well".
"CHC residents have a lot to offer" Nadia says, noting that the key to relationship building is building trust first. Many of the events they host in Manchester are focused on steadily building relationships and encouraging residents to open up. That can be as easy as a monthly coffee chat where residents can pop in and meet their neighbours. It also gives them a chance to meet the staff at the Neighbour Centre and learn a little bit about the programming that is offered.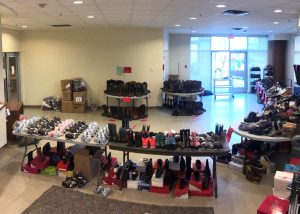 Other programs they offer include a monthly clothing pop-up, with many new and gently used items available for affordable prices. They also have a full time advocate who can help with everything from AISH applications to basic needs referrals. The Employment Coach offers one-on-one coaching for up to a year, along with resume support, job interview support, and referrals for work gear. They aren't there to write resumes, but rather empower people in their job search.
Nadia says that the work they do here isn't focused on homelessness, but rather poverty reduction and helping prevent homelessness. The Neighbour Centre is for everyone in the community regardless of income level. They've adapted their space and the programming they offer to fit of the community and to continue to be client led.
Some of the programs offered at the Neighbour Centre include: advocacy, employment coaching, counselling, spiritual care, free wi-fi and laptop usage and more!
The Neighbour Centre is located at: 5757 2nd Street SW.
Click here for the hours of operation and this month's calendar of events at the Mustard Seed Neighbour Centre.