Mission 27 Unit Affordable Housing Regeneration Celebration
Mission 27-unit affordable housing regeneration celebration
Calgary Housing Company and The City of Calgary are excited this week to be celebrating the regeneration of a 27-unit affordable housing property in the Southwest community of Mission.
"It seems appropriate, gathering here today under one of Calgary's oldest heritage trees, to celebrate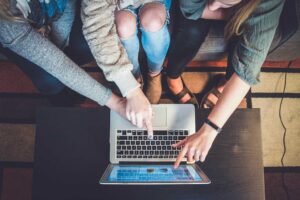 the Province's investment into ensuring the long term viability of the 27 homes here in the Mission affordable housing property," says Sarah Woodgate, President of Calgary Housing Company.
The $1 million redevelopment of the Provincially-owned Mission property, funded by the Province, included a complete overhaul of the building envelope, new exterior cladding, upgrades to insulation, windows and doors, and enhancements to interior spaces.
Overall, the investment of approximately $38,500 per door will result in an extended lifespan of 30 years or more. New construction of this kind of housing is estimated to cost approximately $240,000 per door.
"All Albertans deserve a safe and affordable place to call home. Our government is making the lives of Albertans better by investing in affordable and seniors housing. We recently announced the Provincial Affordable Housing Strategy, which includes an investment of $1.2 billion over the next five years to increase the supply and quality of affordable housing," says Lori Sigurdson, Minister of Seniors and Housing.
"The shortage of affordable housing in our community is well known," says Mayor Naheed Nenshi, "We look forward to opportunities to develop more housing and we are extremely happy to see the Province making critical investments in existing facilities like the Mission property."
Kent Hehr, Calgary Centre MP and Minister of Veterans' Affairs, told the assembled guests he was very pleased to join the celebration noting that cooperation and contributions from all orders of government would be necessary to make meaningful progress in meeting the need for adequate affordable housing.
CHC President Woodgate also used the event as an opportunity to congratulate CHC partner Community LAMDA who are celebrating the 30th anniversary this year. LAMDA is a non-profit support organization assisting vulnerable Calgarians and has been CHC's partner at the Mission property since it opened.
The Mission property provides 27 homes for individuals not able to affordably access housing in the regular rental market. Housing is considered to be unaffordable when it requires 30% or more of a household's income just to pay for housing.
In Summer 2020 we compiled a new Printable PDF version of important information for tenants. You will find details on how to connect with CHC, guidance on the programs we provide, and advice on maintenance and management of your home. Keep a copy of the PDF on your device or print your own hardcopy. Download CHC Tenant Handbook 2020